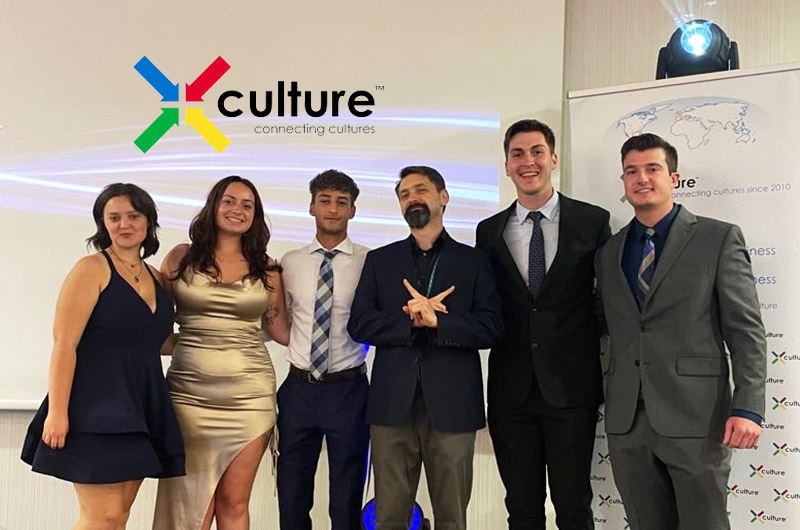 Business Students Win Awards at X-Culture Global Business Plan Competition
Five students from Marywood University's School of Business and Global Innovation participated in the X-Culture Global Business Week in Lublin, Poland, during the summer, with two students earning awards. Dr. Chris Speicher, Executive Director of Marywood's School of Business and Global Innovation, served as the students' professor and trip ambassador. Marywood students were members of two of the four winning teams selected by company executives—tying the highest college-winning representation at the conference.
X-Culture is an international business plan competition in which students compete on teams composed of other students from around the world on real-life projects, set up by companies seeking to enter international markets. Each year more than 10,000 students participate in X-culture from over 400 institutions around the world. The top 150 students are invited to participate in the X-culture international symposium annually. Marywood's students were split up to work with one of four Lublin-based companies, in a challenge to advise these companies on market expansion and other unique challenges each faced. The students received first-hand exposure in international business practices, toured the companies' facilities, and spoke with company representatives and leaders, to further their understanding of the European market.Each company was assigned six teams, with 25 teams in total, and the teams with the best strategy and five-year plan were selected as winners of the challenge, with the chance for their ideas to be implemented into the company's annual operations.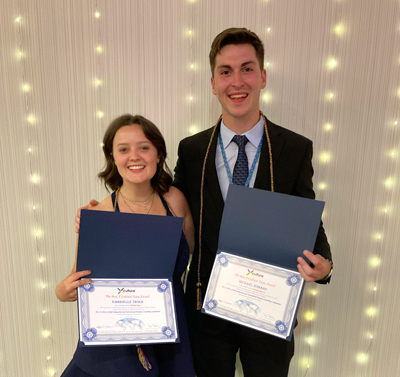 Marywood students participating included: Michael Romano, Maywood, N.J., a junior business management major, who was a member of a winning team; Daniel Gomez, Miami, Fla., a sophomore sports management major; Gabrielle Troch, Newfoundland, Pa., a junior financial planning in business management major, who was a member of a winning team; Joel DeCarli, Archbald, Pa., a junior business management major, and Madison Guelho, Stroudsburg, Pa., a junior business management/health services administration major.
"It was a trip that gave us exclusive first-hand experience into the world of international business and provided us with skills that will be valuable to our professional development and make us Marywood students stand out in the job field," said Michael Romano, one of the award winners.
Marywood business students Gabrielle Troch and Michael Romano display their winning certificates. The students were also awarded trophies for their winning work in the international business competition, X-Culture Symposium.
Get More Info on Marywood's Business Programs
Main Article Image: Marywood Students are pictured with X-Culture Founder, Vas Taras, Ph.D., from the Gala Awards Night held in Lublin. From left to right: Gabrielle Troch, Madison Guelho, Daniel Gomez, Dr. Taras, Michael Romano, and Joel DiCarli.